Review: Pretty Funny by Rebbeca Elliott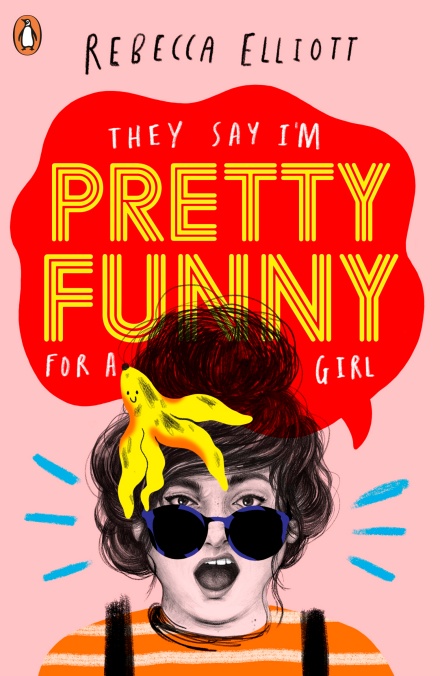 Note; I received a digital ARC of this book from NetGalley in return for a fair review.

Haylah Swinton is fairly confident she's brilliant at being a girl. She's an ace best friend, a loving daughter, and an INCREDIBLY patient sister to her four-year-old total nutter of a brother, Noah. But she has a secret. She wants to be a stand-up comedian, but she's pretty sure girls like her - big girls, girls who don't get all the boys, girls who a lot of people don't see - don't belong on stage.
That hasn't stopped her dreaming though, and when the seemingly perfect opportunity to write routines for older, cooler, impossibly funny Leo arises... well, what's a girl to do? But is Leo quite an interested in helping Haylah as he says he is? Will Haylah ever find the courage to step into the spotlight herself?
Oh. My. God
.
My love for t
his book is so great I can hardly even blog about it. Everything (yes, everything) was just so fricking perfect.
Firstly, round of applause for a YA book containing some actual body positivity. YA writers just can't seem to get their heads around body positivity. They do one of two things:
1) There is an overweight, ugly girl who comfort eats and moans to her (skinny) best friend about how crap her life is and how she could never get the dream boy. To the shock of everyone she gets together with the dream boy, who teaches her she was beautiful, funny and perfect all along.
2) A girl (skinny, white, able-bodied, middle-class ect) overcomes her eating disorder by being told by her dream boy that she was beautifull, funny and perfect all along. I have less of an issue with this one but it needs more diversity.
Pretty Funny falls into neither of these catagories as Haylah is aware she's fat but it isn't the basis of her whole personality and she doesn't need a boy to tell her that she is, in fact, utterly fabulous.
Secondly, the writing was superb. It was laugh-out loud funny but it was well balanced with periods of angst and saddnes.
Overall, it was bloody fab. Deffinitley worth a read for anyone who enjoys YA or wants a sweet novel about feminism and body positivity.
Lizzie ❤️📚